The Dynamic Learning Maps® (DLM®) Alternate Assessment System Consortium is made up of a collection of state departments of education developing and using the Dynamic Learning Maps Alternate Assessment System.
DLM assessments are computer-based and serve the small proportion of the student population with significant cognitive disabilities for whom general state assessments are not appropriate, even with accommodations. DLM assessments offer these students in grades three through high school a way to show what they know and can do.
The Consortium is facilitated by ATLAS (Accessible Teaching, Learning, and Assessment Systems) at the University of Kansas, a part of the Achievement and Assessment Institute, in partnership with the Center for Literacy and Disability Studies at the University of North Carolina, Chapel Hill. The project was initially funded in 2010 by a five-year, $22 million General Supervision Enhancement Grant from the United States Department of Education. The Consortium now self-funds ongoing development of assessments, technology, and professional development; research; and assessment administration.
Membership
States have the option to join the Consortium for both English language arts and mathematics testing, for science testing, or for all three. Current members of the DLM Consortium are: Alaska, Arkansas, Colorado, Delaware, District of Columbia, Illinois, Iowa, Kansas, Maryland, Missouri, New Hampshire, New Jersey, New Mexico, New York, North Dakota, Oklahoma, Pennsylvania, Rhode Island, Utah, West Virginia, and Wisconsin.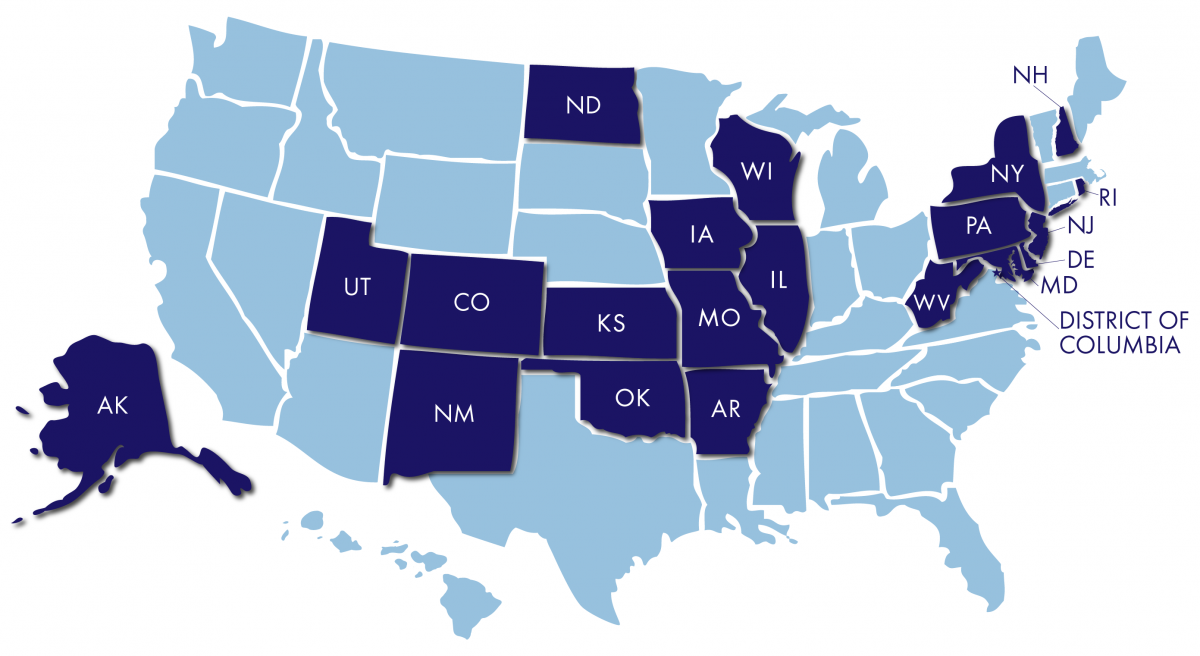 States by Year Joined
2020
Pennsylvania
2019
New Mexico
2018
Arkansas, District of Columbia
2017
Delaware, Rhode Island
2016
Maryland
2015
New York
2014
New Hampshire
2013
Alaska, Colorado, Illinois, North Dakota
2010
​Kansas, Iowa, Missouri, New Jersey, Oklahoma, Utah, West Virginia, Wisconsin
Contact
For general questions about the Dynamic Learning Maps project, contact ATLAS at the University of Kansas at:
The University of Kansas
ATLAS
1122 West Campus Road
430 Joseph R. Pearson Hall
Lawrence, KS 66045
P: 785-864-7093
F: 785-864-3566
dlm@ku.edu
Members of the press, please contact the Communications department of the Achievement and Assessment Institute at aaimedia@ku.edu.
State Member Representatives
Educators, professionals, and academic institutions with questions related to state-specific issues or state partnerships should contact their state member representative.